Licenses & Certifications
Our Laboratory Accreditations Go Beyond ISO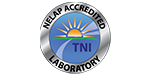 Spruce Environmental Technologies, Inc. operates two laboratories that meet the most stringent laboratory accreditation requirements available in North America. Our AccuStar lab in Massachusetts and the Air Chek laboratory in North Carolina have maintained National Environmental Laboratory Accreditation Program (NELAP) accreditations for more than a decade. The summary below highlights the significance of the NELAP program, its requirements as detailed in The NELAC Institute's (TNI) standards, and how this process compares to ISO 17025.
NELAP Program Summary ISO is just a starting point. While some laboratories advertise their ISO 17025 compliance, this is just a starting point for NELAP requirements. TNI has expanded upon 17025 in several areas and has made these improvements vital parts of the NELAP accreditation body requirements. The expanded areas include Proficiency Testing, Terms and Definitions, Management, and Technical Requirements.
These improvements and additional requirements significantly elevate the quality control process to ensure proper management and staff qualifications and training, details corrective action procedures, frequency of proficiency tests and management reviews, instrument and support equipment calibration, and method/analyte-specific requirements.
ISO 17025 describes the general requirements for the competence of testing laboratories, but the document itself cannot be used as an accreditation program. According to TNI literature, "ISO/IEC 17025 is a strong foundation upon which to build an accreditation program. However, any organization that wants to build such a program must supplement this document with additional requirements. TNI has expanded ISO/IEC 17025 into the environmental arena using a consensus process that considers the opinions of state and federal agencies, commercial and public-sector laboratories and other interests." For those wanting more details on the NELAP/ISO 17025 comparisons, we have posted a link to the TNI's February 23, 2018 summary on our website that you can read here.
AccuStar - Massachusetts Laboratory
AccuStar - Pennsylvania Laboratory